Kauai 5 Hour Tour or All Kauai 10-Hour Tour
Friendly, local, expert guide
You have two choices: a 1-day tour consisting of 5 or 10 hours or a 2-day tour consisting of 5 hours each day. A 5-hour tour takes you to either the Waimea Canyon or to Hanalei and the North Shore. I recommend the 2-day tour option because that way you get your second day half off! On a 10 Hour All Kauai you see the very different but beautiful sides Kauai and:
You get the premier deal of half off your second day!
5 hours are better than 10 hours straight for touring
Leaves half your day free
Hedges your bet against the weather
Second day we already know each other
The days do not need to be consecutive
If you are doing a helicopter ride, I can drop you off or pick you up
If you only have one day or coming from Oahu on a Kauai day trip, then I'm happy to take you from the Waimea Canyon to Hanalei on a 10 hour tour. Book it now and start your wonderful Hawaiian adventure on Kauai today!
Kauai by car: we will see everything this tropical island has to offer
So much to see: split the tour over two days and explore more!
Let's become friends and learn about this amazing Hawaiian island
Visit the Kalalau lookout, Waimea Canyon, Opaeka'a Falls and much more!
Flexible itineraries: we have endless suggestions but will always ask if you want to visit somewhere specific
Click the tabs to find out more
Price
All tour prices are based on number in party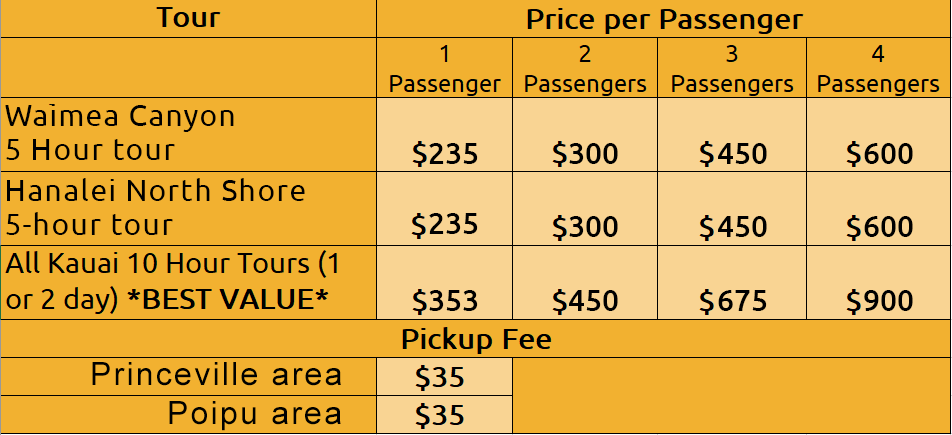 Your second day of touring is half off! Days do not need to be consecutive.
---
---
Meeting point
Your accommodation or a pre-approved meeting point in Kapaa. You can leave your car in Kapaa for the day.
*$35 per day for applicable Princeville or Poipu pickups*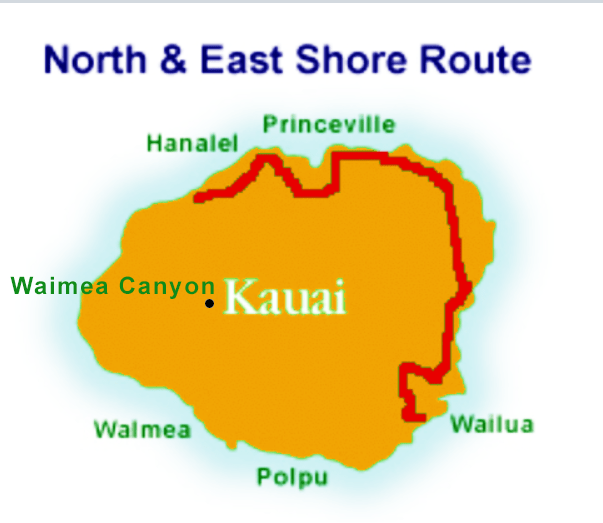 ---
Availability
7 days a week, all year long
---
Duration
1-day tour = 5 hours
or
2-day tour = 5 hours per day
---
---
Included
Comfortable, private  and safe 4Runner vehicle, a friendly, local expert guide and one flexible itinerary! I do provide cold water but I would suggest people bring their own water bottle for the planet's sake!
---
Not included
Snacks & drinks, but we can stop for coffee on the way! We do also stop for lunch (not included) and I usually choose a beautiful beachside restaurant
---
What to bring
Camera, snacks, water, light jacket, cash, light walking shoes, sandals (optional comfort), curiosity…
---
Staff
1 x local expert and friendly guide—Uncle Doug
---
Good to know
No long walks/hikes. There are non-stair options for the lookout spots—just let me know if you need to use them. If weather happens I'll do my best to follow the sun and have some fun! If you're slightly more restricted on time and only have one day on the island, it's absolutely no problem at all!  If you only have one day or coming from Oahu on a Kauai Day Trip then I'm happy to take you from the Waimea Canyon to Hanalei. Get in touch with me and start this wonderful Hawaiian adventure today!
"The Pacific Grand Canyon"
This is an example itinerary. This will be day 1 of your 2-day tour. You can also choose to explore here on your 1-day, 5-hour tour. These are just examples of what you can see—I am open to hearing your ideas too!
There is so much to see, which is why I have found that people love to split their Kauai tour over two days. The generally drier, sunbaked southwest part of Kauai is home to the "Grand Canyon of the Pacific", a.k.a. Waimea Canyon. Stretching 14 miles long, 1 mile wide and more than 3,600 feet deep, this canyon has views that are simply breathtaking. Afterwards, we can hop along to the famous Kalalau Lookout, known for its picturesque panorama views of the Kalalau Valley & the deep blue of the Pacific Ocean. Next, we can stop at one of the most magnificent Kauai waterfalls—Waipo'o Falls! This 800-foot cascading waterfall can be seen from miles away, and it's an amazing spectacle to witness. The Menehune Fishpond is another famous and unmissable spot on this Waimea private tour. Built nearly 1,000 years ago and listed on the National Park Service's National Register of Historic Places, it is a fine example of ancient Hawaiian culture – find out why on the tour!
Kauai's lush tropical side
This is an example itinerary. This will be day 2 of your 2-day tour. You can also choose to explore here on your 1 day, 5-hour tour. These are just examples of what you can see—I am open to hearing your ideas too!
Kauai's North Shore is tropical and generally cooler and more jungle-like than the drier, sun-baked southside. The famous North Shore is the side that people think of when they think of Hawaii. Packed with coconut trees, stunning volcanic mountains and far more scenic lookouts than on the westside, the tropical north end offers a different perspective of this ancient Hawaiian island.
So what can we see? No matter which side of the island you decide to tour, we will see the Wailua Falls; made famous as the opening shot of "Fantasy Island". While in Wailua, we can make a stop at the lusciously green Opaeka'a Falls. This stunning waterfall cascades down a 150-foot wall of basalt formed from volcanic eruptions millions of years ago. The viewpoints here offer the chance for me to explain why Hawaii looks like it does on the map, why Kauai looks the way it does and why Mt. Waialelale is one of the wettest spots on Earth! We also need to make a stop at the awesome Kilauea Lighthouse. Perched cliffside and surrounded by the deep Pacific Ocean, the lighthouse offers some incredible views. We'll then head further north and stop at Hanalei and Hanalei Bay, a must-see while in Kauai. The town of Hanalei sits in the middle of this 2-mile long beach and was voted 'best beach in America in 2009'! Surrounded by jagged mountains and steep cliffs, it's a truly wonderful place to spend some time unwinding. I'll also show you where I jogged on the beach with George Clooney when I worked as an extra on "The Descendants".
Join the Kauai Tour Guy today
Choosing between the 1 or 2-day tour can be difficult. My private tour in Kauai can take you to Waimea Canyon and the spectacular southwest, but the North Shore of Kauai also offers stunning vistas, beautiful lush green surroundings and Kauai's best beaches. It's not possible to do both in one day (hence our 2-day option) due to the difficulty/length of the roads, but whatever you decide, I'll make your experience unforgettable! Here are some highlights you could enjoy on the tour:
Menehune Fishpond                                         

Wailua Falls

Kilauea Lighthouse 

Waimea Canyon 

Kalalau Lookout 

Hanalei Town & Bay

Beautiful beaches

Backroads less traveled

Opaeka'a Falls

North Shore of Kauai and its unsurpassed tropical beauty

Kong

Puff The Magic Dragon

Sleeping Giant

Coco Palms—where Elvis stayed while filming "Blue Hawaii"

Various sites of movie filmed here on Kauai

The historic town of Hanapepe 

Glass Beach and cemetery

Look at Niihau, the Forbidden Island and story of why it is forbidden
Here's what Doug has to say:
"This is truly a private guided tour for you and your party only. We go at your pace. When I pick you up, the first thing I ask is if you need your coffee. I find out a little bit about you and your interests, where you're from, what preconceptions about Kauai I might have to dispel (no active volcanoes) and off we go. I know where all the bathrooms are on the island, and I have found some folks are greatly relieved at that one. My dirty little secret is we tour according to my bladder and my stomach (with your input, of course). I am 63 after all and love to eat!
So what will we see? Beautiful scenery! Beaches! Fun! Learn about Kauai's intriguing culture, geography and natural history as well as how we, as modern Hawaiians, look to the ancient Hawaiians for clues on sustainability. Folks, Kauai makes my job easy as a sightseeing guide, and there is nowhere that's as darn pretty as here. Kauai is one of the most beautiful islands in the world, and I will show and share it with you. Glorious beaches, stunning rainbows, rugged mountains—you name it! We will also have opportunities to see the endangered monk seal, geographical spouting horn, the Sleeping Giant and Kong…so what are you waiting for? You never know what we'll see along the backroads of Kauai…
Check out what our guests are saying
---
---
The Waimea Canyon- South and West Side 5-Hour Tour
$235 single or $150
Hanalei – North Shore & East Side 5 Hour Tour
$110