Click the tabs to find out more
Price
Group tour – progressive pricing. The more that go, the less per person it is.
Premium Private Tour Option – add $110 to your tour price for the option to close the bookings on your day, provided you are the first party to contact me. I only do one tour per day. For example: booking for 2 is $390. Add a premium tour package $110 means $500 for your premium private tour for 2.
---
Departure time
9 am, unless we arrange differently.
The ships are not always on schedule! I have a special permit to pick you up cruise-ship dockside at pre-approved tours location (there is no tender boat in Lihue), you simply walk the plank! If you choose the 2-day tour, we can start earlier on the second day to have you back by suggested time.
---
Meeting point
Walk down the plank and straight away from the busses etc. towards the big yellow sign that says "walk to-beach, shopping, hotels" Walk out the door,turn a hard right and my van will be against the building parked 50 ft away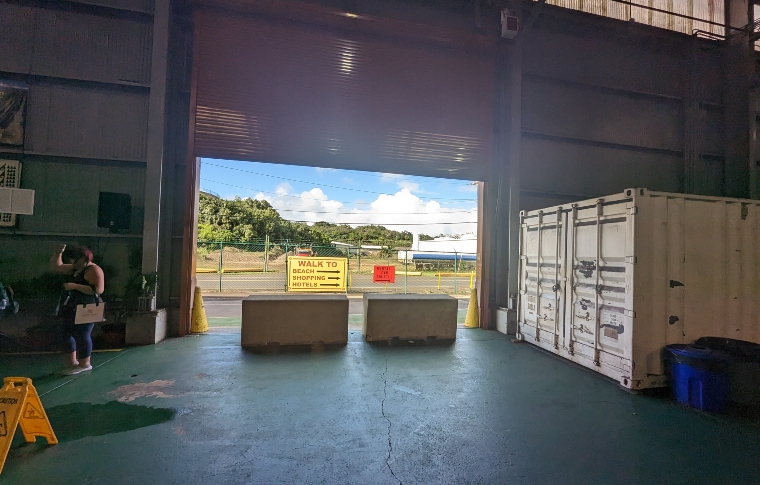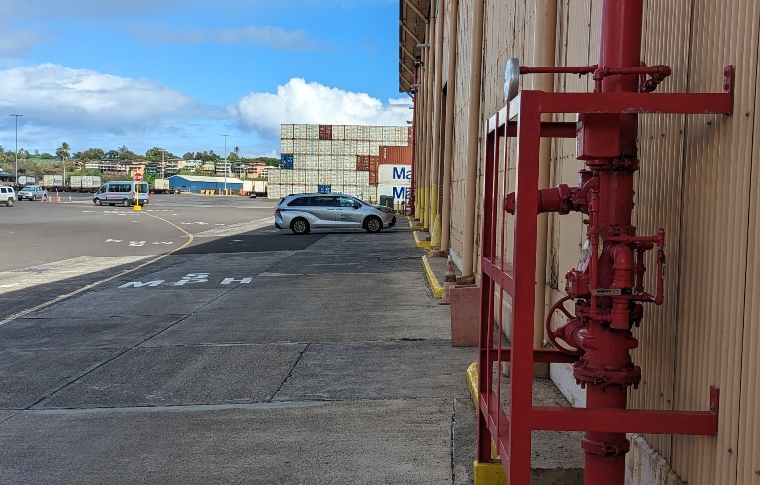 ---
Availability
Whenever your ship is in port – my advance bookings tend to run a month to two months out.
If you are last minute I might be able to add you on to a tour that day.
---
Duration
Approximately 6 hours with a stop for non-inclusive lunch.
Doug's got to eat and pretty sure you do too. And I know where the best bathrooms are or are not!
---
Group size
2-7 people.
Cruise ship tours can be combined parties unless the first to book requests a Premium Private Tour.
Not looking to pack the van but the more the merrier, invite new friends along, just let me know.
---
Included
Water, trail mix snacks and fun on a very comfortable 8 passenger (myself and 7 guests) 2022 Hybrid Toyota Sienna Van.
---
Not included
Lunch, but we do stop for lunch
---
What to bring
For the Canyon in the winter you might need that waterproof light jacket you packed, cash, no need for towels. Bring your picture taking device and a healthy curiosity and that's about it. Walking shoes are best.
---
Staff
I am it! I'm the booker, driver , guide, maintenance crew and van washer.
---
Participation requirements
I only have room for a rolling walker, sorry no wheelchairs or scooters. We do not go hiking, this is a sightseeing tour. Only at a couple sights do we walk more than 100 yards.
---
Good to know
• This is a sightseeing tour, we don't do any hikes!
• There is no tender ship at Nawiliwili Harbor.
• I know where all the good restrooms are, I have one of the smallest bladders in the world, no shame.
• Where I pick you up is not even 5 minutes from the plank. That means you walk the plank and away we go within minutes. Why mess with all the hassles of getting a taxi to the rental car offices, stand in a long line (you won't be the only one on a ship day) drive back and get the rest of your crew? Walk the plank, turn right and away we go and leave the driving to me!
• Special requests are always welcome for stops but keep in mind it might make us miss something else.
• I design these tour routes for people who want to see the highlights and photo ops.
• If you have special needs or physical limitations please let me know ahead of time and I'll do my best to accommodate you.
• Max is 7 people on the tour.
Enjoy a private tour of Kauai in a comfortable 8 passenger 2022 Hybrid Toyota Sienna van (myself and 7 guests).
Choose either the premium offer of a truly private tour or tour with up to 5 others from the ship or new friends you made on the cruise and invite them!
Book me ahead of time and don't find yourself haggling with taxi drivers shipside!
On the Waimea Canyon Tour it is all about the Grand Canyon of the Pacific. I will tell you about why Hawaii has the unfortunate nickname of "extinction capital of the world" due to remoteness from any mainland. Wailua Falls and Poipu on the route as well.
The Hanalei Bay tour I take you to the Wailua and Opaekaa falls, learn about the Hawaiian ancient Heiaus(temples) and how Hawaiian culture has been largely disregarded until recently.
On either tour I will give you a Geology and Geography lesson about Kauai to help you understand why the two sides of the island are so very different.
Join the Kauai Tour Guy today
Cruise Ship cancellation policy
1. I do only one tour per day so each booking is my commitment to show and share Kauai
to you.
2. Any cancellation within 2 weeks can result in your tour deposit loss unless I can book a
replacement date. IF anyone in your booking decides not to go then you will be responsible for the per person cost increase-4 tour cheaper per person than 2. If you book a tour please honor that committment.
3. Weather cancellations are my call and my call only. I will not go if I don't feel we will see anything or the weather is too unpredictable for safety on the roads. This means if it's cloudy and we can't see the Waimea Canyon we will go to Hanalei Bay instead. Most times that is determined on the morning of the tour. If you want to cancel then you will automatically forfeit your deposit.
4. I will contact you the night before, usually by email, to confirm the tour.
5. Please be aware I am a private tour operator with no agreements with the Cruise Ship
Companies.
6. I will need the names of all the people on the tour as I have to give those names to the
security guards at the Harbor gate for any pre-arranged tours.
7. By sending a deposit you acknowledge and agree to these rules of cancellation.
Check out what our guests are saying
---
The Waimea Canyon Tour – Kauai South & West Side 6 Hour Tour
Hanalei Bay Tour – North Shore & East Side 6 Hour Tour
All Kauai Tour in 2 Days to See All Kauai