Kauai Tours for Cruise Passengers
Passing through Kauai and want to take full advantage of your time on the island? Look no further! All our Kauai tours are available for cruise passengers with special accommodations so you don't have to worry about getting back on time! We will take care of all the logistics so you can relax and take in the beauty of our island.
Kauai Tour Guy: North Shore or the Waimea Canyon
Kauai is an island of natural beauty in Hawaii. Also known as "Garden Island" or "Garden Isle", Kauai's dramatic landscape will surely capture your heart. It is the perfect place to get away from it all and explore nature. It is the perfect place to get away from it all and explore nature from the comfort and safety of my 2022 Toyota Hybrid Sienna with your travel companions. I will pick you up from your accommodation! 
Whether you want to do a North Shore Tour or the Waimea Canyon, I'm here for you! I am your man to show you around. I offer once in a lifetime Custom Kauai Tours for the North Shore or the Waimea Canyon that take care of all the details, leaving you to sit back and enjoy the experience. When you book one of my tours, it will be just your group – a truly exclusive experience.
The natural beauty of this island is breathtaking and I love being able to share that with my guests. I can give you sound, on the ground, advice so you can make the most of your stay here. Being a Senior Citizen myself and living on the island for many years, you can count on my expertise in the area. I can bring you to the best place to eat, do adventures or simply chill and relax with the view. 
My car is an easy in and easy out, so if you need help getting up or down I have a step stool available upon request. My tours are both elderly and child-friendly, plus everything in between. So no matter what your age is, you'll be young at heart when we visit the best places of Kauai. Oh, and no worries about bathroom breaks, I also know where the good ones are!
Contact me(opens in a new tab) today to book your unforgettable Kauai Tour!
Welcome to my 6-Hour Kauai Tours – the Hawaiian excursions that are perfect for those with limited time. If you've never really had much time in Hawaii but still want to see it or need more selfie moments before your cruise back home arrives, this is exactly what you should be looking into. My tours are exclusively private as well, which means it will only be your group in the car!
Our tours will show you the best of both worlds: the stunning scenery of Waimea Canyon(opens in a new tab) or the green paradise of North Shore(opens in a new tab) where your eyes will feast on the tropical landscape, beach access, and spectacular waterfalls.
There are two tours available for you: Waimea Canyon and North Shore. We explore the southwest side of Kauai and its breathtaking scenery with our Waimea Canyon Tour. While our North Shore Tour will bring you to the lusciously green mountains and gorgeous tropical scenery, plus experience some waterfalls and visit gorgeous beaches on a half-day tour like no other.
Whichever you decide from the two tours, rest assured you'll be getting the best things this island has to offer with my Kauai Tours. You can choose your 6-hour tour of one side or do both tours in 2 separate days and receive the 2nd day with a 20% off discount(opens in a new tab). Tours do not have to be on consecutive days.
See What My Guests Say About My Tours!
Know More About the Island of Kauai
Kauai is the fourth largest island of Hawaii and driving it around for one day is not possible. However, you can still enjoy the island even when you have limited time. You'll only need to create an itinerary that will enable you to go to various places. To ensure that you make the most of your time while you are in Kauai, you can call me to arrange a tour for you.
I offer 6-hour tours of the North and Southwest sides of Kauai. The Waimea Canyon tour allows you to explore southwest Kauai with its breathtaking scenery. Or, see the lush green areas on the North Shore tour as well as famous Kauai waterfalls and some of Hawaii's best beaches.
Kauai has a special place in the hearts and minds of many visitors because it is one of the oldest Hawaiian islands. It also is the greenest among the islands of Hawaii, covered by mountains and forest. It is not surprising that Kauai has become a popular destination for tourists.
My tours are perfect for passengers on a cruise ship with limited time at port or tourists who only have half a day on the island. If you are thinking of visiting the island, I can help make your stay more memorable and hassle-free with my tours. You will enjoy the ultimate experience in this beautiful place. Also, learn about some amazing hidden gems while you explore this paradise.
Only if you think he went above and beyond your expectations.
In America, tipping is a way of acknowledging a job well done. In general any person in a hotel, a cab/taxi/uber, airport, a dining table will be working for tips and they are greatly appreciated. I think of a tip like applause. You pay to go see a performance and your tip is the applause, and who doesn't love a standing ovation? You can google appropriate tipping but for me a $20 tip per person, per day would be a suggested tip for me or any guide you use anywhere for a personally guided tour like I give, if you are so inclined.
The island of Kauai has many beautiful sights and natural wonders that will suit any taste. You can either relax, explore or dive into adventures while you're here. There are a wide variety of Hawaiian activities on the Island, the best one will depend on what you enjoy the most. Surely, you'll get to experience it in Kauai!
Kauai is the ideal place for people of all ages. Adults will love the natural wonders, and kids will enjoy exploring mountains and beaches alike. From relaxing to new adventures, Kauai has much to offer every visitor.
The North Shore is a great place to see natural waterfalls and enjoy all that Kauai has to offer from the shoreline as well as some good food. The Waimea Canyon offers you a chance to experience a majestic view of Kauai waterfalls, like the beautiful Waipo'o Falls. You will also be able to see what it feels like on top of a mountain with breathtaking views stretching out into infinity before your eyes.
On Kauai, there are innumerable unforgettable activities and attractions. The wonderful culture, people, and foods are a great bonus! You may be wondering if there is one particular place that you must visit while on the island. It all depends on your personal preferences and desires.
Below are 7 things you should not miss in Kauai according to Travel Channel.
1. Waimea Canyon
Visit Waimea Canyon Drive for many wonderful lookout points. You'll get your picture-perfect moments from the overlook. If you're looking for something even more impressive, take one of the trails that wind throughout the valley offering even bigger views.
2. Allerton Garden and Lawai Bay
If you want to get beautiful views of the south, consider Law Beach. The beach backs up to Allerton Garden and features great sunsets.
3. Na Pali Coast
The fifteen-mile Cliffs coast offers awe-inspiring views sprawled out along the coastline. You may also see whales while you view this natural wonder.
4. Hanalei Bay
If you're visiting Kauai, a must-see is the Hanalei Bay on the northern coast. The beach provides ample space for day-trippers, snorkelers, and sometimes even surfers.
5. Farmers' Markets
Farmers' markets are abundant on the island and great for a fun walk from town. Sheets of fresh fruit like local pineapple await you there.
6. Acai Bowls
Make sure to try the perfect tropical treat that will make your mouth water. It's a fruit-filled bowl that is Instagram-worthy.
7. Trying Poke
Poke is a traditional Hawaiian meal. It's a bit like Sushi in a bowl. The number of poke varieties available is overwhelming, but you can choose by how you prefer your ahi.
The best way to experience things with your Kauai tour is by talking with me about your interests so we can plan a tour for you.
There are many activities on the island of Kauai. The number one activity is just exploring this beautiful place. You'll get to see a variety of natural wonders, experience incredible adventures, enjoy delicious food and culture and so much more while you explore this paradise.
Other popular activities include hiking (with or without waterfalls), watching dolphins, helicopter tours over Napali Coast, scuba diving, or snorkeling at any of the amazing beaches on the east side like Tunnels Beach or Ke'e beach. If you want something different from your typical tropical vacation then try paddle boarding in Anini Beach Park. The place is suitable for beginners attempting to do this for the first time. You can even do this while enjoying the views and spotting tropical reef fish, eels, seahorses, eagle rays, green sea turtles, and different types of fish.
Another great activity is a visit to any farmers market, where they sell fresh produce, flowers, honey, and homemade items like jams & jellies, pickles & relish, and locally made crafts. These markets are open daily and are great places to explore the culture while enjoying fresh fruit usually source by locals directly from the region.
That is a question that I always get from clients. The answer to how many days in Kauai depends on what you want to do and see while you are here. You will probably need at least two full, consecutive days if your plan includes exploring the Napali Coast by boat or helicopter tour. You would also need more than one day if your plan includes taking in the sights and enjoying more than one activity or adventure on this big island.
I recommend a minimum of three days for any first-time visitor to Kauai. As for me, it's best to try to stay a week on Kauai as it gives you time to get out and explore things at your own pace without rushing around too much from one place to another. That is my personal preference though! Your mileage may vary depending upon what exactly are your plans when you visit.
When you have limited time though, know that I offer tours where you can still enjoy Kauai in just six hours. We will maximize your stay and make sure that it will still be remarkable. Kauai is an amazing place for anyone looking for outdoor adventure, relaxation or even just time catching up with family and friends. So enjoy yourself while experiencing what Kauai has to offer.
The best time to visit Kauai is from April to June and September to November. In the off-peak months, the weather is still very comfortable without as many tourists around. The weather from September to November is equally beautiful with fewer tourists and more events and festivals. Since it's the low season airfare and hotel rates drop during this time. Prices are slightly more expensive during the peak season, they become cheaper after the peak season ends and before families begin their summer travels. But any time of year can be a great time to go as long as you plan ahead and pick your activities wisely based on weather conditions for a given month or day.
It's also important to check out weather conditions before your island adventure. This is for you to know what type of activities you can do and what clothing to bring with you. You don't want to get caught off guard without the proper gear, especially if it is raining! Places to bookmark in your weather app would be Waimea, Poipu, Kapaa and Princeville.
Only on the tours originating from the cruise ships do I combine the tours but I do offer a premium private tour for those wanting the privacy and attention not found on the motor coaches from the ships.(See Kauai cruise ship passenger tour). I also go where the motorcoaches don't go on the Waimea Canyon State Park tours.
Warm sunshine and gentle rains are ideal conditions for a healthy green environment. While Hawaii is well known for its sunny, dry weather, Kauai's climate includes periodic showers that provide the island with the necessary moisture.
Whether you are visiting during the winter or summer, sun exposure should be a consideration when planning your Kauai vacation. Poipu and Waimea on the Southside are ideal for sunny days. The driest areas on Kauai are the southern part of the island, like Poipu or Waimea and Kekaha. But even if rain showers pop up from time to time – these tend to pass quickly through with sunshine returning soon after.
However, it's always best to check the forecast or ask locals for advice. Spending hours taking safety measures like researching the weather is all worth it. Even if there is rain on one side, it can be dry and sunny just a few miles away! So do your research in advance to ensure that weather conditions are perfect for what you plan to do while visiting Kauai.
Kauai has relatively mild weather year-round with warm temperatures, trade winds, and little seasonal temperature variation. But there is a rainy season that runs from November to March which can sometimes extend into April depending on how the seasons progress in Hawaii.
Rain is beneficial to the island environment by providing moisture for growth and replenishing groundwater. The rain in Kauai provides various benefits that tourists also enjoy. The rain makes the beautiful waterfalls flow and refreshes the flowers to make them bloom. Also, a rainbow may also appear after some showers.
The best way to tour around Kauai is by car. Driving through all four corners of the island will give easy access to different locations. It is also a great sightseeing opportunity.
There are many public buses on Kauai and they are affordable. However, they don't always go to most of the tourists' destinations. Buses stop near hotels and the airport, but attractions, such as Napali Coast, can be difficult to reach without a car. You can also check the public transportation schedule if you wish to try this option. They have detailed info included with per adult fee, seniors and kids get a discounted rate. It is surely another level of experience to explore a place with its public transportation.
Another way to get around Kauai is by booking guided tours with companies like mine. I understand that a lot of tourists do not have much time to do all the research on where to go or where to rent a car. That's why I started my company, to make sure everyone can still have the chance to explore the beauty of Kauai even with a limited time. I want everyone to feel what I did and why I moved here. Everyone deserves the chance to experience what Kauai has to offer.
I'll bring you to the spectacular places on the Island while giving insights about Kauai with interesting stories. Kauai Tour Guy is all about convenience and enjoyment. If you are looking for the best way to get around Kauai, then book a tour with us right away!
Hiring a tour guide is beneficial in many ways. With limited time, you will not have to spend it checking where to go or how to get there. You can sit back and relax while I drive you around the island showing what Kauai has to offer at its best. If you are the driver you do not want to miss out on the beautiful scenery because your eyes should be on the road.
Below are just a few of the reasons why you should hire me:
Flexibility
Since I offer private tours, you can choose the places you want to go to, and which ones not to. I do have pre pre-arranged itineraries for Waimea Canyon and the North Shore, but you can let me know if there is a special request. I'll surely give my best to accommodate it whenever possible.
Affordable tours at a reasonable price point
You may be thinking that doing the tour on your own and renting a car is much cheaper than hiring a tour guide. Truth is, considering the convenience a tour guide offers, the expense is much less. You surely don't want to end up finishing your limited time in the island trying to figure out the routes around the island or researching where to go, much less getting lost.
Saves Time
When you hire me, you'll save so much of your time. Time is important, not only do I arrive on time but I also make sure your tour is convenient and packed with great destinations. You also don't need to spend time learning or figuring things out on your own. You can always let me know what interests you and I can always give sound advice or arrange it when needed.
Useful Insights
All places have distinct traditions, having me as a tour guide ensures that you know these. It's always best to learn and pay respect to the culture of the locals. This way you'll be able to value the experience even more.
The best area for your stay while in Kauai will always depend on your purpose of stay and the activities you wish to do. You'll have to identify below to make sure you get the accommodation that suits your needs:
Budget
Knowing your budget will help you filter out your searches. There's no need to check on accommodations that are out of the budget. It's either a waste of time or ending up booking something that is out of your allotted budget.
Travel Destination
This is very important as it will save you a lot. You surely don't want to book a room that is far from public transportations when you don't have a car with you. You'll end up wasting a lot of your time and money. Also, if you wish to spend more time in a certain city then it's only reasonable to book a stay there than to the next city.
Number of Companions
If you are traveling with a family, you might want to book an apartment or hostel where you'll have access to the kitchen. However, if it's just you or if you are a couple with a few days' stay then paying for a hotel can be worth it.
Activities
Of course staying in a place where your activities are, is always the best way to go. You will not have to think about getting around and it's more cost-efficient this way as well. This can be helpful especially when you are going on an adventure or if there's something that requires physical exertion like hiking trails.
Accommodation Expectation
It's important to check on your preferences. If you are the type who likes a certain comfort then make sure that whatever accommodations you book have everything as per your expectations. Budget and expectations usually do not match, sometimes you have to compromise one.
Once you have all these details with you, then you can start your search. You can also check on  Kauai's Hotel reviews prior to booking your stay.
Who Is The Kauai Tour Guy?
And How Did He Come To Kauai?
Aloha! My name is Doug, and I am the Kauai Tour Guy. Kauai tours are my passion, and people are always curious about how I came to live on one of the most beautiful islands in the world. After working as a florist for over 20 years, I had the opportunity to come on a business trip to Kauai for a flower show… click the button below to read more and how I ended up here. I hope you join me on one of my tours and you fall in love with Kauai like I have over the years.
Why Hire Kauai Tour Guy?
One of my favorite parts about this job is offering custom Kauai Tours(opens in a new tab) and personalized services that allow me to be flexible and accommodating when needed. It's because I know how much time people can spend planning their trip before leaving home. I want to make sure everyone enjoys their stay here.
Kauai is home to some of the top rated beautiful sights that you can see in nature, from the Waimea Canyon(opens in a new tab) to the North Shore(opens in a new tab). I want everyone who visits to have an amazing time exploring all it has to offer. Whether you're planning a romantic getaway for two or looking forward to celebrating your family vacation here, I'm here to ensure you feel comfortable and enjoy your time on the island.
I know that coming into a new place can be intimidating. My goal is always to leave clients feeling satisfied with their experience in Kauai after they've left. Whether it's an activity or meal recommendation, I want people to come away from this journey feeling like they got to experience things that are truly unique and special.
For more information about the Kauai Tour Guy(opens in a new tab), feel free to contact me(opens in a new tab) directly by phone or email. I am happy to answer questions or offer advice as to how my tours can enrich your Kauai experience.
The Ride-Not a Big Bus
My tours are small group, private, and safe. If you are looking for a comfortable ride around the island of Kauai, and don't want the Big Bus tour you are in the right place. My 2022 Hybrid Toyota Sienna is perfect for sightseeing and exploring at any pace. Whether we do the Waimea Canyon 6 Hour Tour, the Hanalei North Shore and Eastside 6 Hour Tour, you can rely on The Ride to take you to the best Kauai has to offer!
Private, Comfortable Transport
Friendly &
Knowledgeable Guide
Truly Unforgettable Experience
What Makes Kauai Tour Guy Tours a Once in a Lifetime Experience?
Kauai Tour Guy is not only about tours, it's about sharing the experience of the beautiful island of Kauai. This is not just a job or business for me, it's my passion. I want everyone to feel what I did and what made me decide to move here. When you hire me as your tour guide, be ready to enjoy the below perks:
No hidden costs for your convenience - Waimea Canyon State Park fees included
Reasonably priced according to value, service, & comfort
I provide the best possible customer care with a personal touch
I make it a point to always be punctual
You can get in touch via phone or email whenever you need my help
My services are ideal for everyone - solo travelers, senior citizens, families, groups, & even couples
I have a sound knowledge of the island & can provide valuable information about where you are going
Your comfort is important to me & my car has an easy in/out entrance, no steps at all, roomy seats, & is fully air-conditioned for your convenience
I can pick you up or drop you off in most places on the island
I have lived in Kauai since 2007, meaning you'll be touring with an experienced local
Aloha Friends! Check Out My Blog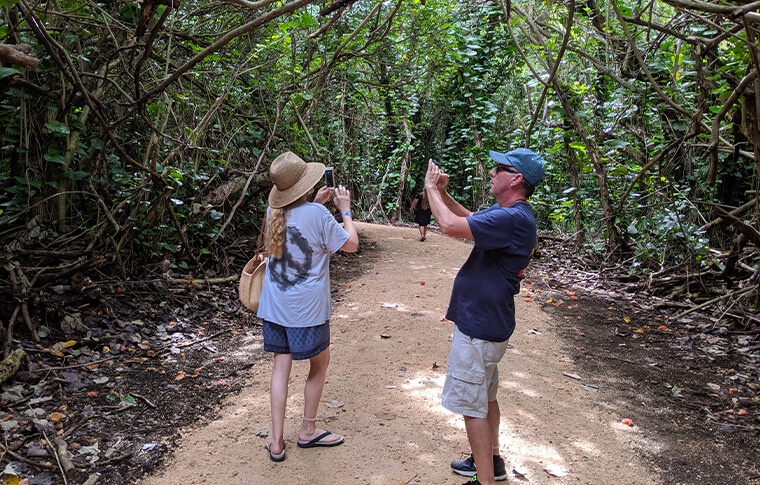 Family-Friendly Nature Walks in Kauai
Kauai Eco Tours
Should I rent a car in Kauai?