What to explore on a Kauai Honeymoon Trip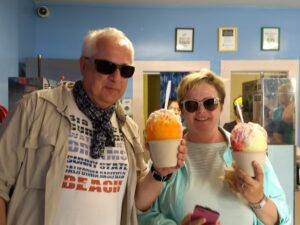 It may not be what you think. 
One of the best things about Kauai is that no matter where you are on the island, whether it is coming out of the Big Save grocery store in Hanalei or Ross Dress for less in Kapaa, the scenery is gorgeous! As a tour guide this makes my job easier but I like to fill people in on what they are seeing. That could be the rather bombed out appearance of the Coco Palms (Blue Hawaii with Elvis!) to the Birthing Stone right across the road where the Hawaiian Ali'i (Royalty) gave birth to future Kings and Queens.  
As Honeymooners you are starting your new life with your beloved and are busy making memories in your future together and I feel honored to help. Depending on how long a couple is here I will tailor my recommendations.  I point out different places you can come back to for that alone time all honeymooners seek and crave. I will also make tour suggestions and I do have a short list of my things to do as a 14-year resident and a tourist in the beginning just like you. No kickbacks for me so just my honest opinion. 
I also worked as a concierge on Kauai and I get that not everyone can afford to do all the paid activities on the island but there is one thing you have to pay to actually see but it is the do not miss.  My number 1 recommendation when visiting Kauai besides your orientation Honeymooners tour with me of course,  www.kauaitourguy.com   is seeing the awesome Na Pali coast. The Grand Canyon is awesome and so is the Na Pali coast. I usually go once a year and each and every time I marvel that this huge geographic feature is on this 25 square mile island! If you don't see it the first time you are going to have to come back! The only way to see the Na Pali is by catamaran or Helicopter and there are Zodiac Boat tours that you young honeymooners who will love it if you want a little(lot) adventure on you trip. On my tours we will look into the Kalalau Valley but that is only a slice. You can hike the coast but you MUST get a permit beforehand. See my blog on the North Shore for links and info from Hawaii State.  https://kauaitourguy.com/post/hanalei-haena-state-park-and-north-shore-kauai-access-for-2021/    
Visit the Fern Grotto and do a Luau if you have not done so. A traditional luau will give you the story of how the Hawaiian island were found by the Polynesian people. It is a lot of fun; you will sit with people from all over the world and you can be sure when you get home your friends will ask you if you went to a luau! Check! Of course, the Waimea canyon is not to be missed but we will go there on my tour.   
As an anniversary trip the couples are usually folks who may have honeymooned here themselves and are looking to revisit old haunts, reconnect with past memories of a romantic time they shared together, or they like to see how much things have changed and they usually find Kauai still has a certain magic. 
But I saved my best recommendation for last and that is go to a beach for the day! The entire day if you can. Pack a sandwich and a cooler and go to that beach that called you and yours years ago or that gorgeous, secluded beach I just showed you. A day of rest, relaxation and reconnection. That is what I came here for several times before I realized this is where I want to be and I hope Kauai will work whatever magic you might need as well. The world needs Kauai and Kauai needs the world!
Either way, Honeymooners or Anniversary couples, there is plenty to see and do on Kauai and I suggest that you start with your orientation tour or reorientation tour with me, Doug, The Kauai Tour Guy. 
Aloha Friends! Check Out My Blog
Kauai Eco Tours
Should I rent a car in Kauai?
What to explore on a Kauai Honeymoon Trip